A Boho, Garden-Inspired Baby Shower

I remember the day I found out my sister was pregnant. That sneaky little sister of mine mailed us a package the week before St. Patty's Day. Totally not out-of-the-ordinary because she's the thoughtful, caring, generous aunt (that I hope to be too!) and always sends H a little something for these kinds of holidays.
I didn't suspect anything, until I opened the package and saw a cute little shirt that said "Did we just become best friends?" I instantly burst into happy tears - "I'M GONNA BE AN AUNT! Henry, you're gonna be a COUSIN!" There was also an "Aunt Squad" tank for me, and a sweet little note & picture. Y'all, if her aunt skills are any indication of how she'll be as a mom... she's gonna ROCK IT!
My wheels started turning! She was going to be visiting in June. How fun would it be to throw her a baby shower! She lives in Wisconsin, and I knew we wouldn't be able to throw her a shower there, so this was the perfect opportunity!
It did present some tricky circumstances, however, as it'd be difficult for her to travel thousands of miles home with tons of large gifts! Read on to find out our fun solutions!

The Invites
At the time of planning her shower, we didn't know the baby's gender yet (SPOILER ALERT: It's a BOY!), so we wanted to keep her theme fairly gender neutral, while still incorporating her general nursery ideas. She's going for a woodsy, rustic nursery, so this greenery was a fun way to include that but not be too boy-ish or girly.
We also included an insert with her registry details, and other notes about the shower! I always recommend including an insert card as opposed to overloading the invitation with info. Grab this invitation here.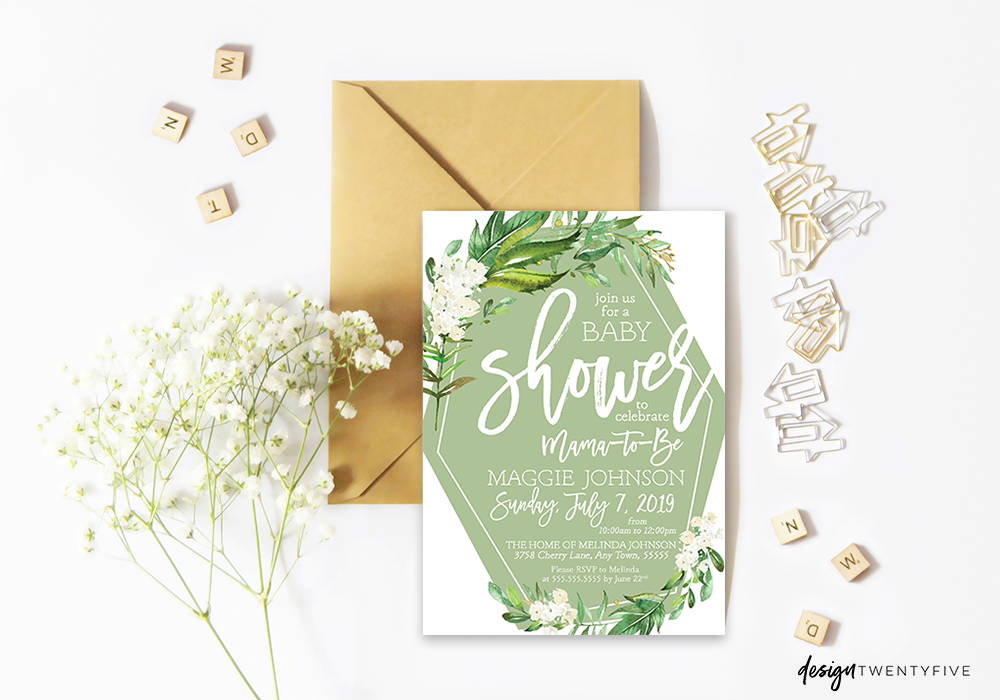 Non-Traditional Baby Shower
Because my sister would be traveling to attend the shower, we had to figure out a creative way to incorporate some of the fun new baby shower traditions without ending up with too much stuff for her to travel home with! This went for gifts too - too many large items would be tough to pack in a suitcase or ship!
We decided to include an all-inclusive insert card with details about her registry, the diaper raffle and a books for baby request. We included her address, as well as where she was registered, in hopes that it would encourage people to ship their gifts!
Registry/Gifts: In case you're looking for inspiration, here's the wording we came up with for the registry part of the insert:

It's hard to live so far away with a sweet little baby on the way! Courtney will be making the long trek from Wisconsin to be with us on this special day! While we'd love to spoil her with tons of presents, please keep in mind that space is limited traveling home. If you'd prefer to send a gift directly to her, her address is ____.

Dollars for Diapers: We had envelopes at the door for guests to contribute a few bucks towards diapers. This entered them into the raffle, just like if they had brought a box of diapers, and we raffled off a gift card!
Books for Baby: We stuck with the "bring a book instead of a card" trend, and it was so fun seeing all of the unique book choices and reading the notes from gift-givers. Highly recommend doing this! It's a great way to start a "library" for baby.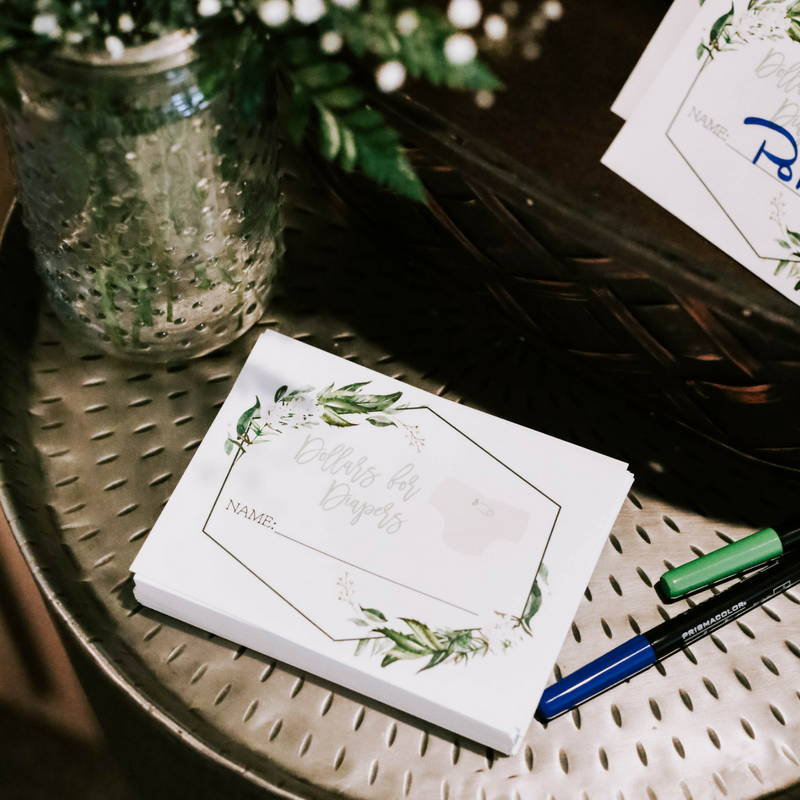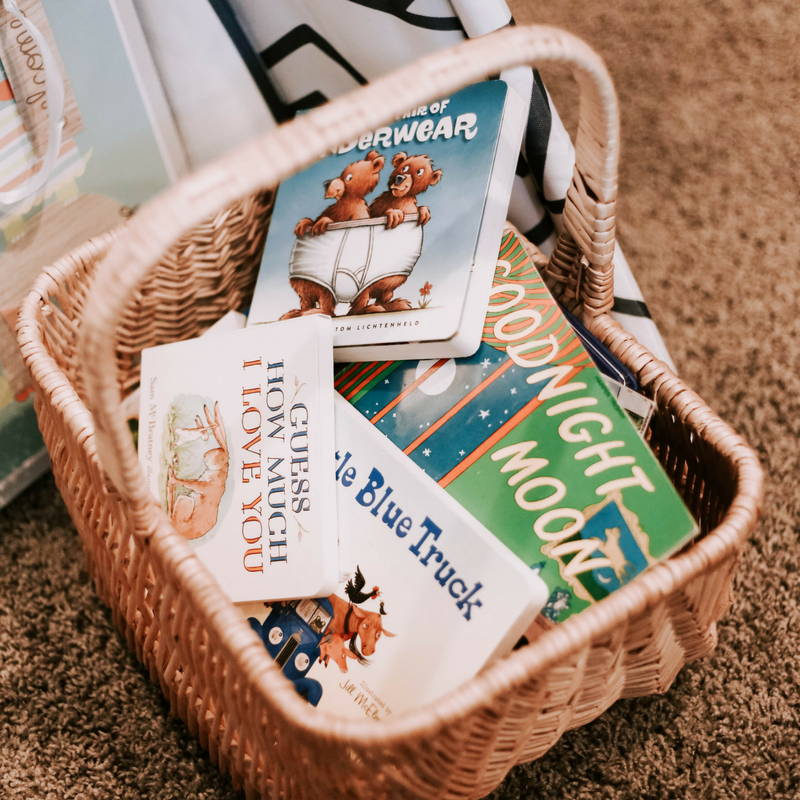 Food & Drinks
Because we planned the party for Sunday, we decided to host an earlier brunch so it wouldn't conflict with travel plans for some of the guests. Here's a quick list of what we served:
Mom-osa Bar - A fun spin on your typical mimosa bar!

Donut Bar

Fiesta Breakfast Casserole

Gluten Free Chocolate Chip Coffee Cake

French Toast Casserole

Mini Egg Muffins (3 varieties)

Quiche (from Costco)

Bacon
Easiest way to set up food for a large event? Buffet! No question. Guests don't feel pressured to eat a full, plated meal, and if you don't have space for a traditional seated brunch, this is a perfect solution! We wanted to provide some savory options in addition to all the sweets, so the egg muffins & quiches were simple and perfect. We have a handful of family members with gluten allergies and wanted to be sure there was a wide variety for them as well.
PRO TIP: Opt for donut holes instead of full size donuts. It's easier for guests to grab a couple at a time, and they don't feel quite as committed to a whole donut.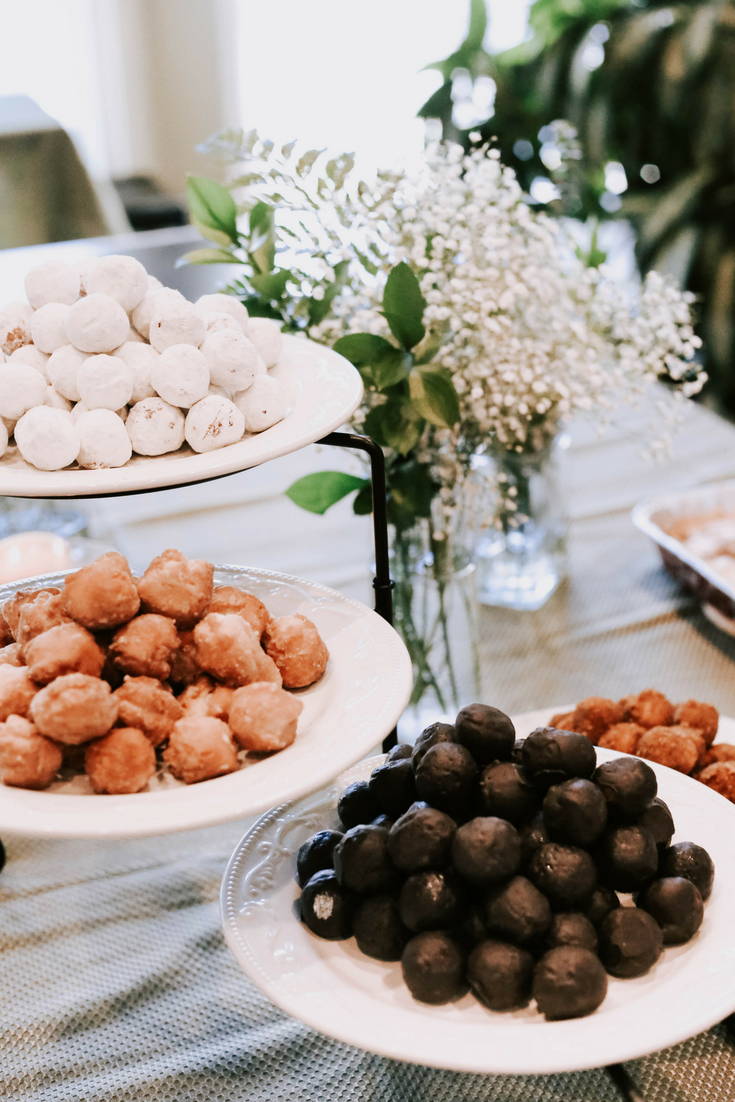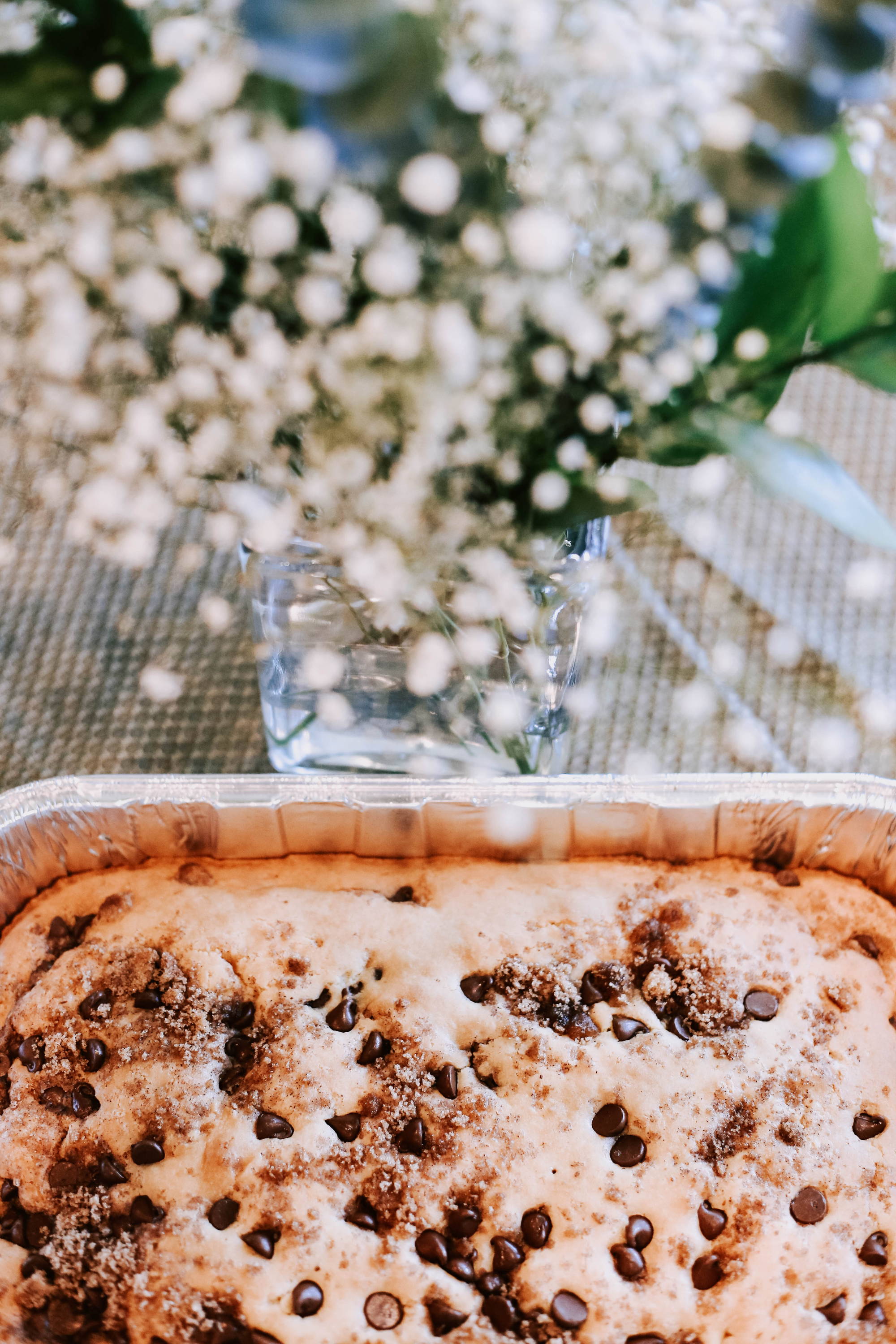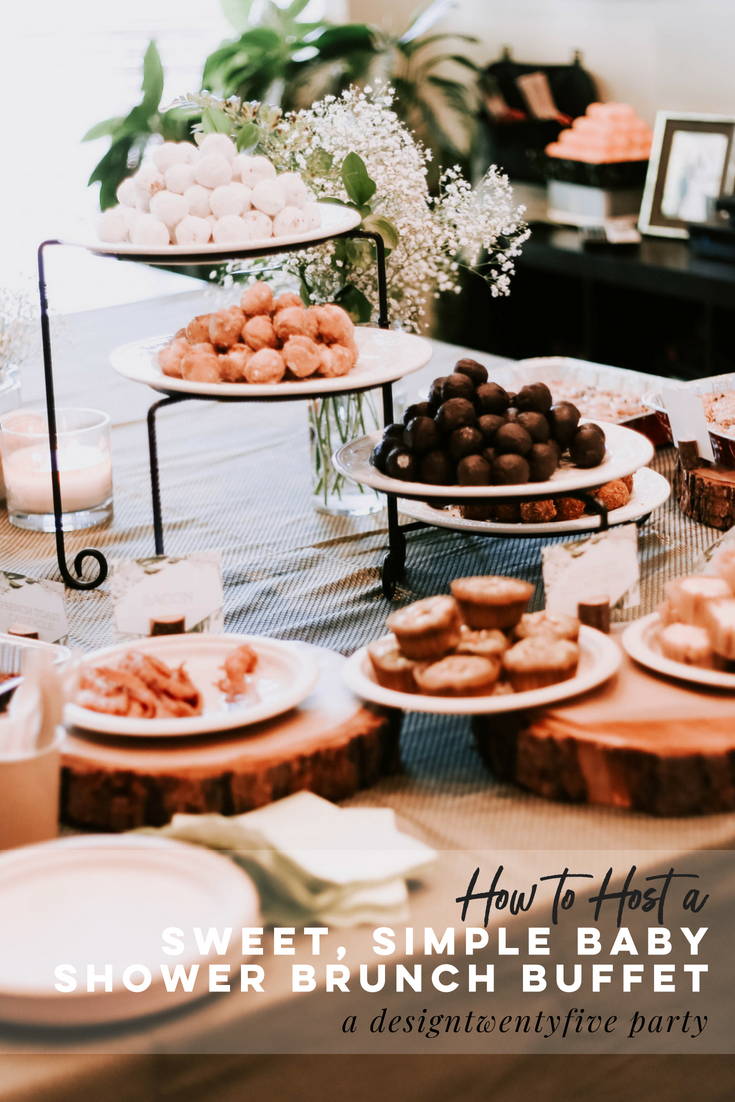 Mom-osa Bar
We created a super simple, yet sweet "Mom-osa" bar for the shower! I designed and printed a Mom-osa Bar sign & matching hexagonal juice tags. I used four glass carafes for the juices. I typically stick with the classics - orange juice and cranberry juice - but we also used strawberry lemonade which was delicious with champagne, but also a great option for those wanting something non-alcoholic!
One of my favorite projects for this baby shower were the guests' drink glasses. I bought 3 cases of simple mason jars and personalized them with each guest's name. To do this, I cut each name out on white adhesive vinyl with my Cricut. It was a quick, inexpensive project - only around $30 total for 36 jars - but allowed me to tie in the fonts from the invite to the mimosa bar, and was a great party favor for everyone!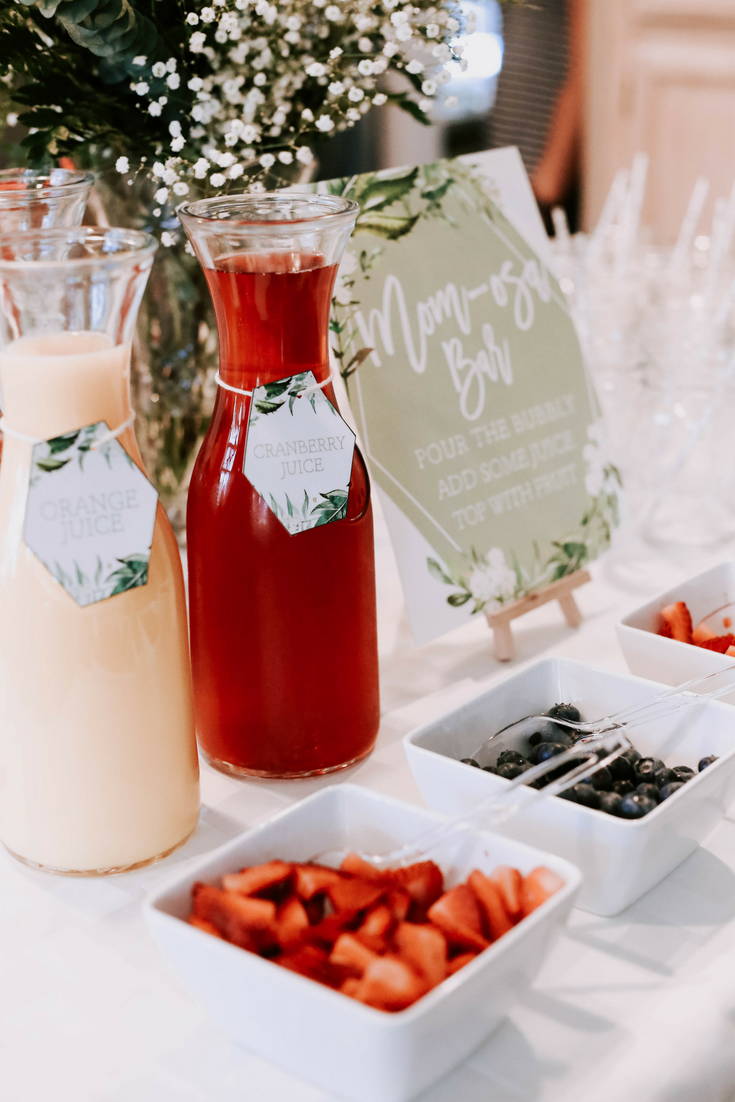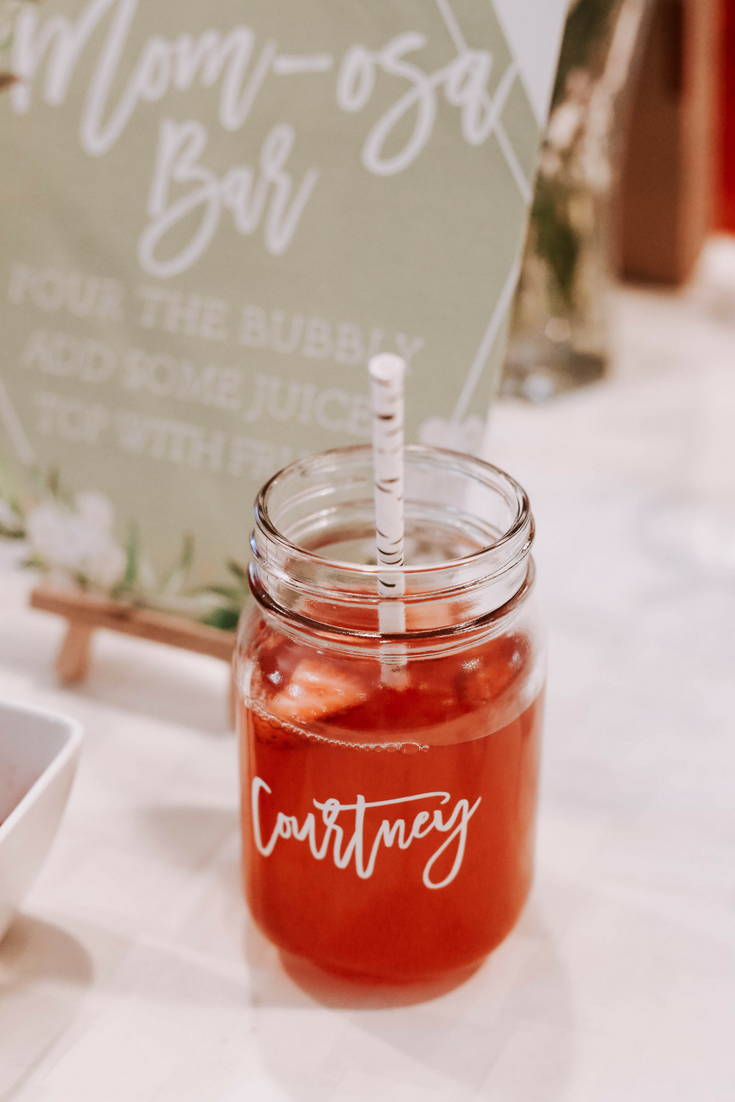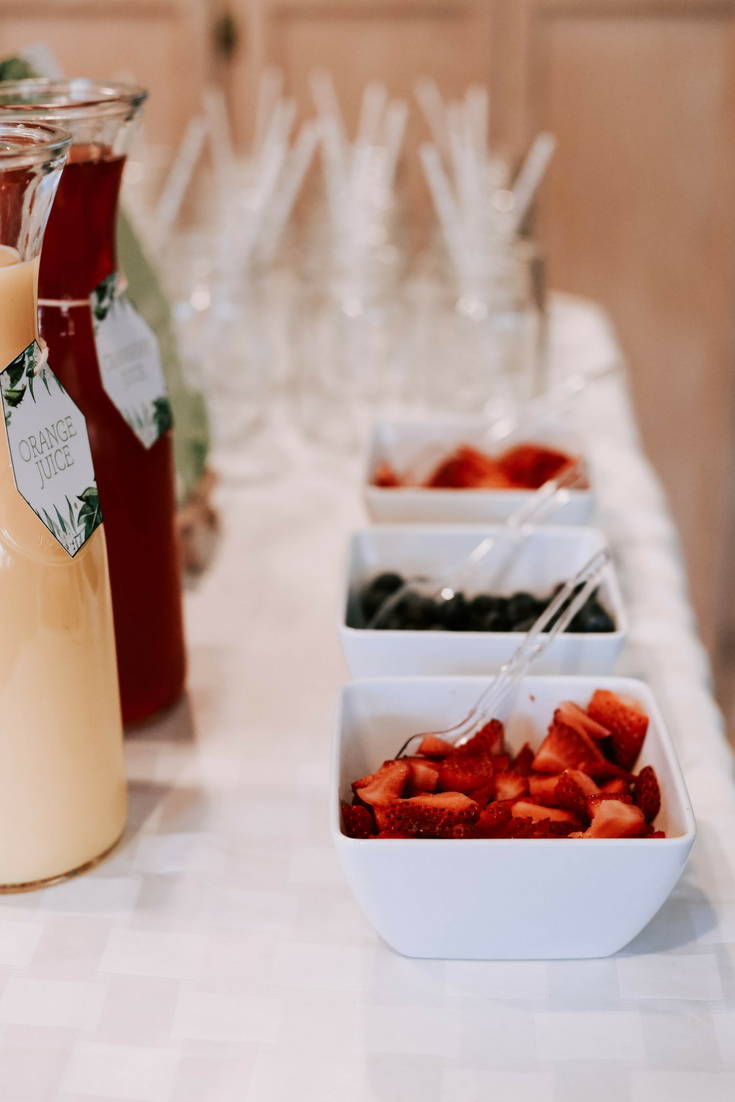 Games & Activities
I'm the kind of person that would rather visit with guests, drink & eat yummy food than play a baby shower game! Who's with me?! That being said, we still wanted to have some fun activities, but decided to incorporate more "keepsakes" than traditional games. Here's what we did:
Dear Baby keepsake cards
Wishes for Baby Stirmel cards
Guestbook Photo Book - we bought a sketchbook and had guests write a note to the new parents-to-be. They got their picture taken with Courtney and we attached the photo above their note.
ABC Coloring Pages - we printed out 4x6 cards with a single letter on each page for guests to color. We put them in a photo album after in hopes it will be a fun way for baby boy to learn his ABCs.
Guests had the option to do any or all of these activities and it was nice that they could just fill out the cards at their leisure while still visiting with others. We did play one fun game - a sock matching competition where two people competed against each other to match as many socks as they could in 15 seconds! The competition was FIERCE with this group of ladies!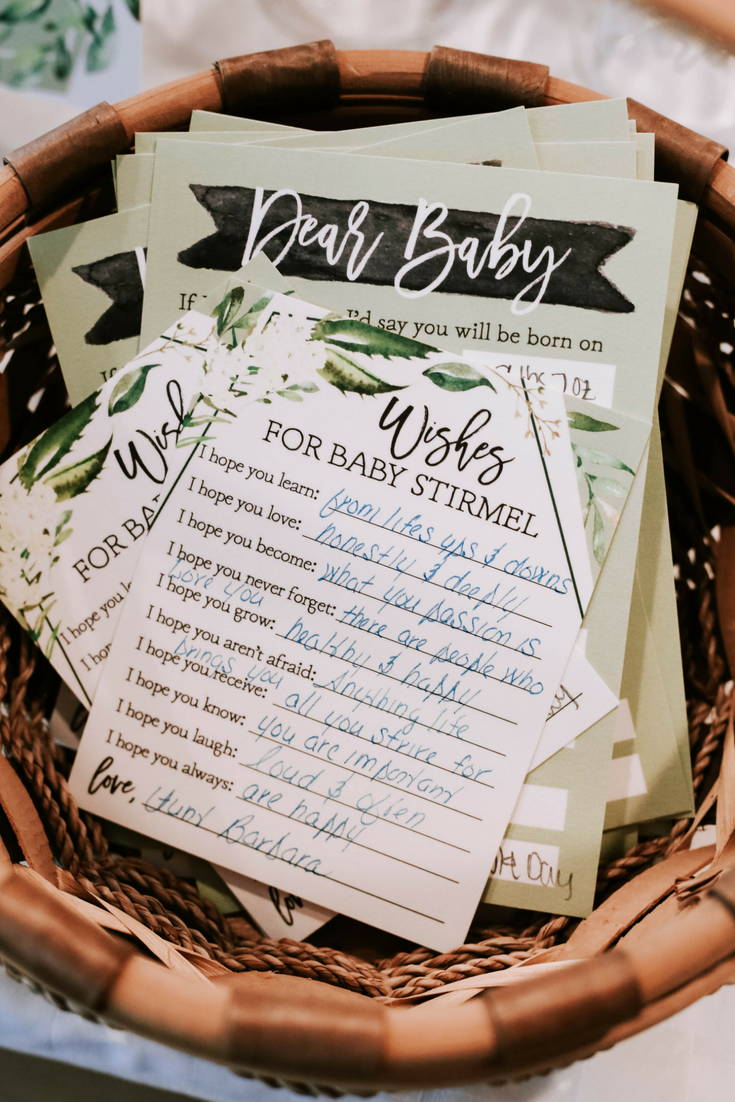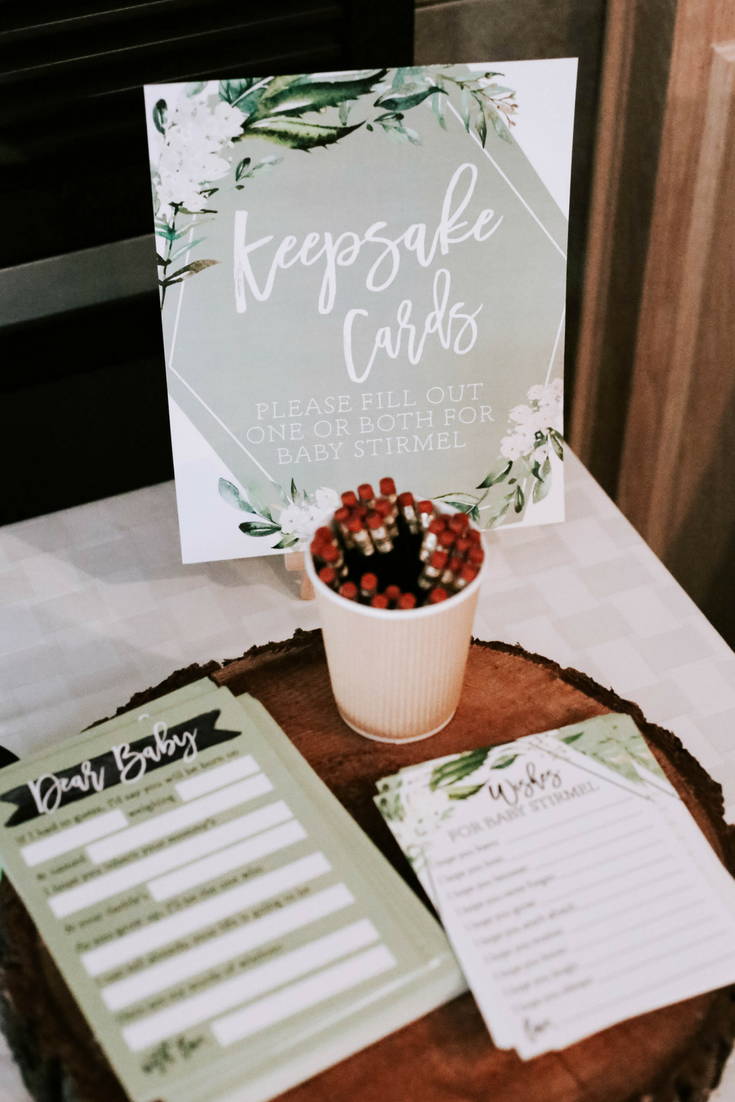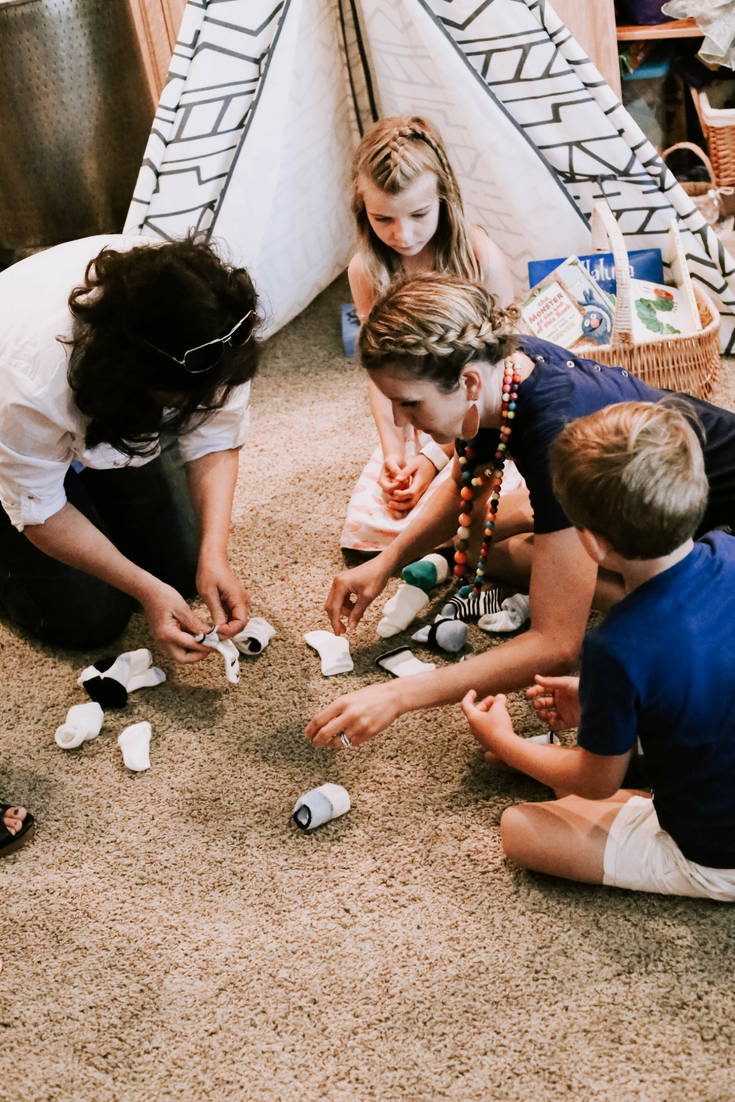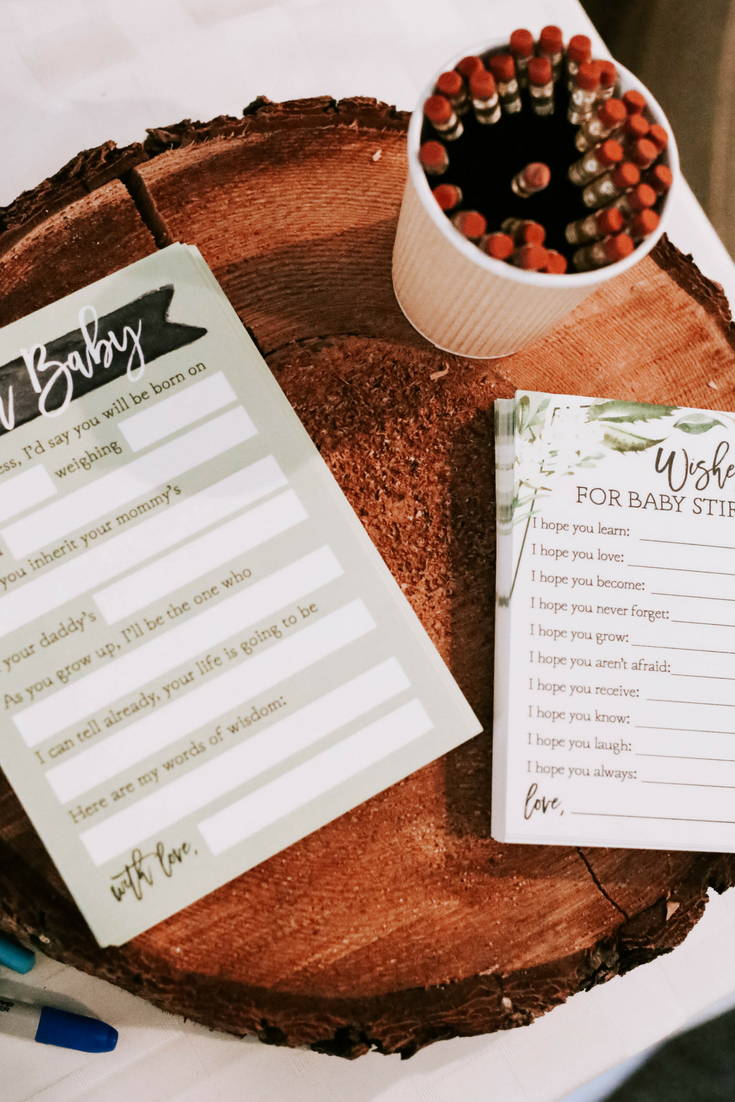 Party Decorations
We wanted to incorporate the greenery/woodsy theme in the decor, so we purchased greenery filler (ferns, eucalyptus, etc) & babies breath bundles from Costco. It was a gorgeous way to quickly and simply decorate the entire space, and we even used it on top of the teepee and on the welcome sign. Here's a quick list of the various decorations we used.
"Baby" Balloon, from Paperboy Party

Coordinating Table Signage - Mimosa Bar, Guest Book, Keepsake Cards Sign, Food Table Tent Cards

Mason Jars for mimosa bar (see above for details)

Welcome Sign with greenery accent

Teepee for gifts & book basket with greenery accent

Wood log rounds (leftover from our wedding day, but you can pick some up at the craft store or online)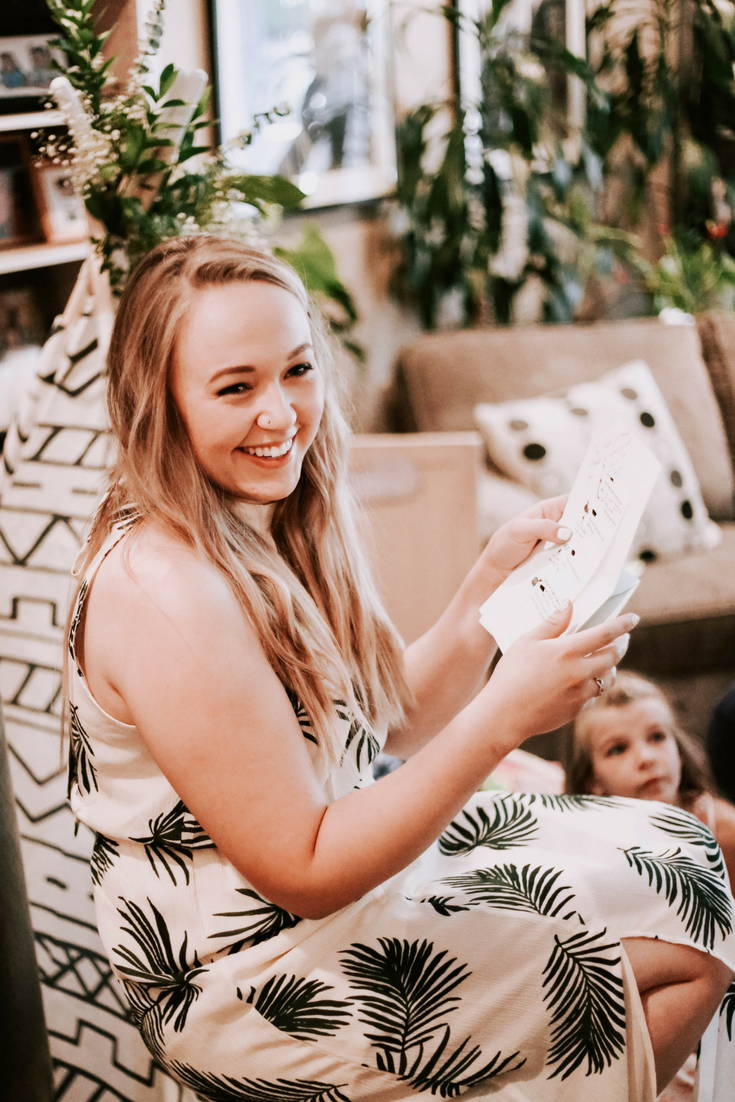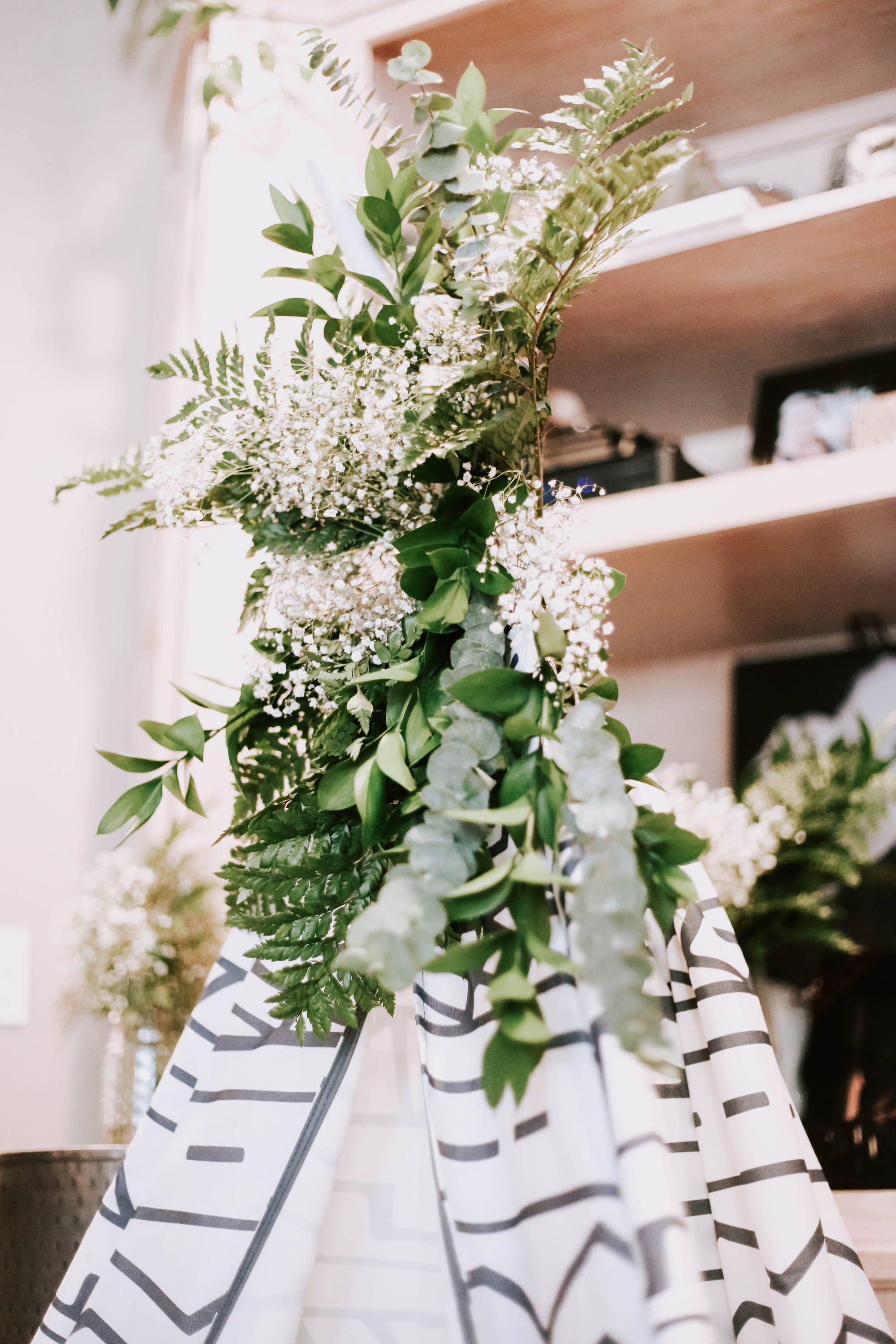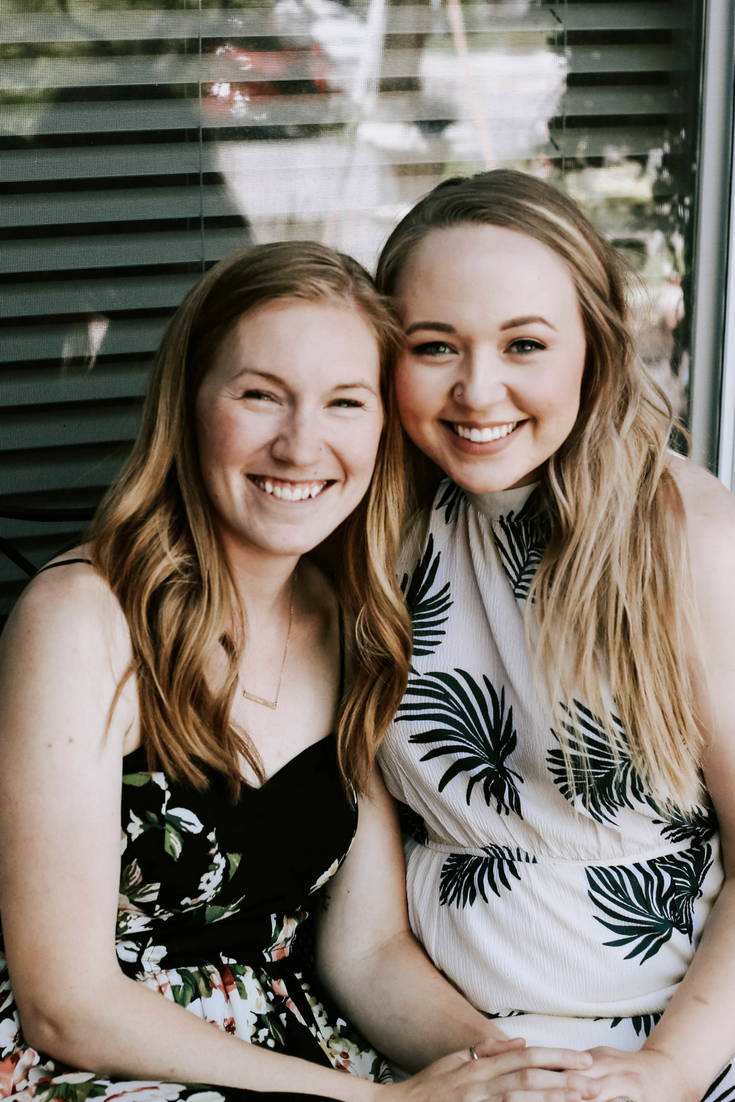 I've said it before, I'll say it again - Incorporate little bits of your theme throughout the space. From the invitations and party signage to the activities and decor, our boho garden vibe was present. Using greenery and babies breath was a fairly inexpensive way to spread the garden vibe throughout the house without feeling overdone.
If you order printed invitations, opt for printed envelopes as well. First and foremost, it's a MAJOR time saver having the envelopes printed with the guest & return address. Worth.Every.Penny. But secondly, it can be such a wow factor for guests and sets the tone for the entire event!
Be resourceful in your decor. We used a lot of pieces I already owned. The teepee was from my son's room; the welcome sign & log rounds were from my wedding; the easel from a past event; etc. This is a great way to not spend a fortune on stuff you might not need again.
The only thing I would do differently (and really doesn't even pertain to the shower) would be to have dried the greenery after the event! I still have the arrangement attached to the teepee, and the eucalyptus and other leaves have dried so beautifully. I'm really kicking myself for not having saved ALL the others from the vases for home decor. Like I said, totally not a deal breaker, but we definitely would've gotten our money's worth if we had dried them after!
Because we live so far from my sister, it was so special to me and my family to get to celebrate her and her sweet baby boy on the way! We all can't wait to meet him this fall!
Planning your own garden-inspired celebration? Tell me about it! Have any party tips or ideas to add? I'd love to hear - leave a comment below.
xo Kaleigh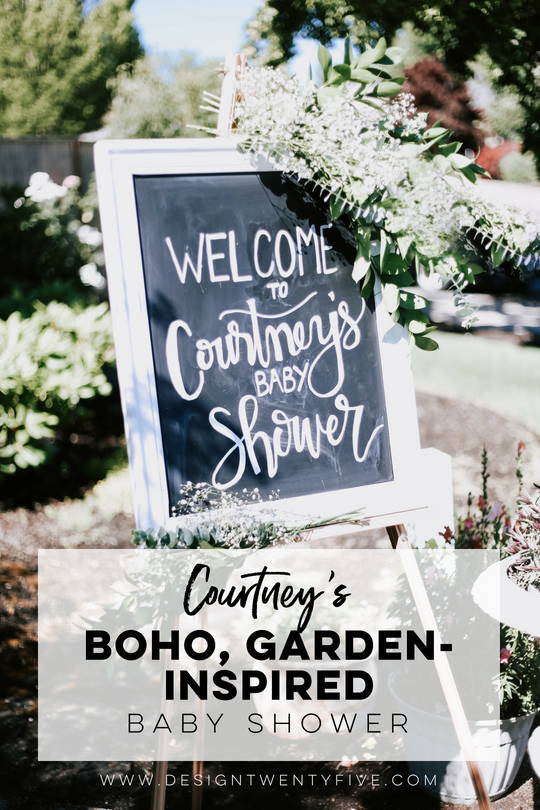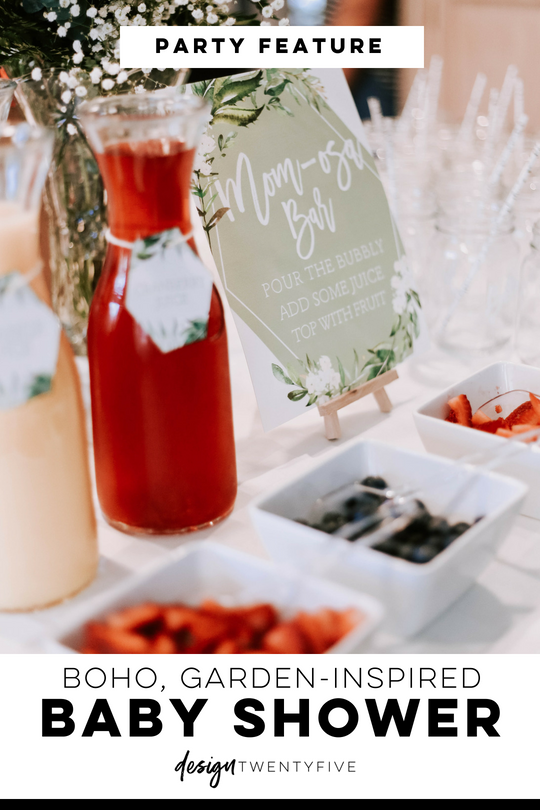 ---
4 comments
---
---