A Modern Baby Bear Inspired First Birthday Party
First birthdays are something so special. And often, we as moms battle the "do I make a big deal out of it, or do I just do something simple because they'll never remember it anyway?"
When Henry's first birthday was approaching (okay, okay, when he was nearing 8 months) I instantly knew I wanted to have a "big" family celebration! No question. But that didn't mean it had to be crazy, over-the-top, or expensive.
For his baby shower, my family had done a "Lumberjack" theme because we had planned to do a modern, rustic, adventure theme for his nursery. I decided to keep the theme for his birthday similar (so we could reuse some of the decorations my mom had held on to) but also wanted to make it feel different since many of the same guests would be there.
He's always been our "baby bear," so I thought it'd be fun to incorporate bears into the theme.

The Invites
You didn't think I'd let my son's first birthday go by and not design his invitation suite, did you? Of course not! I wanted to keep the theme neutral – mostly blacks & greys – and incorporate the classic red & black buffalo plaid in minimal ways. We printed his invitations on a slightly textured paper, with kraft brown envelopes and a buffalo plaid envelope liner for a pop of color. I also had our return address printed on the back flap of the envelope because HELLO time saver! Grab this invitation here.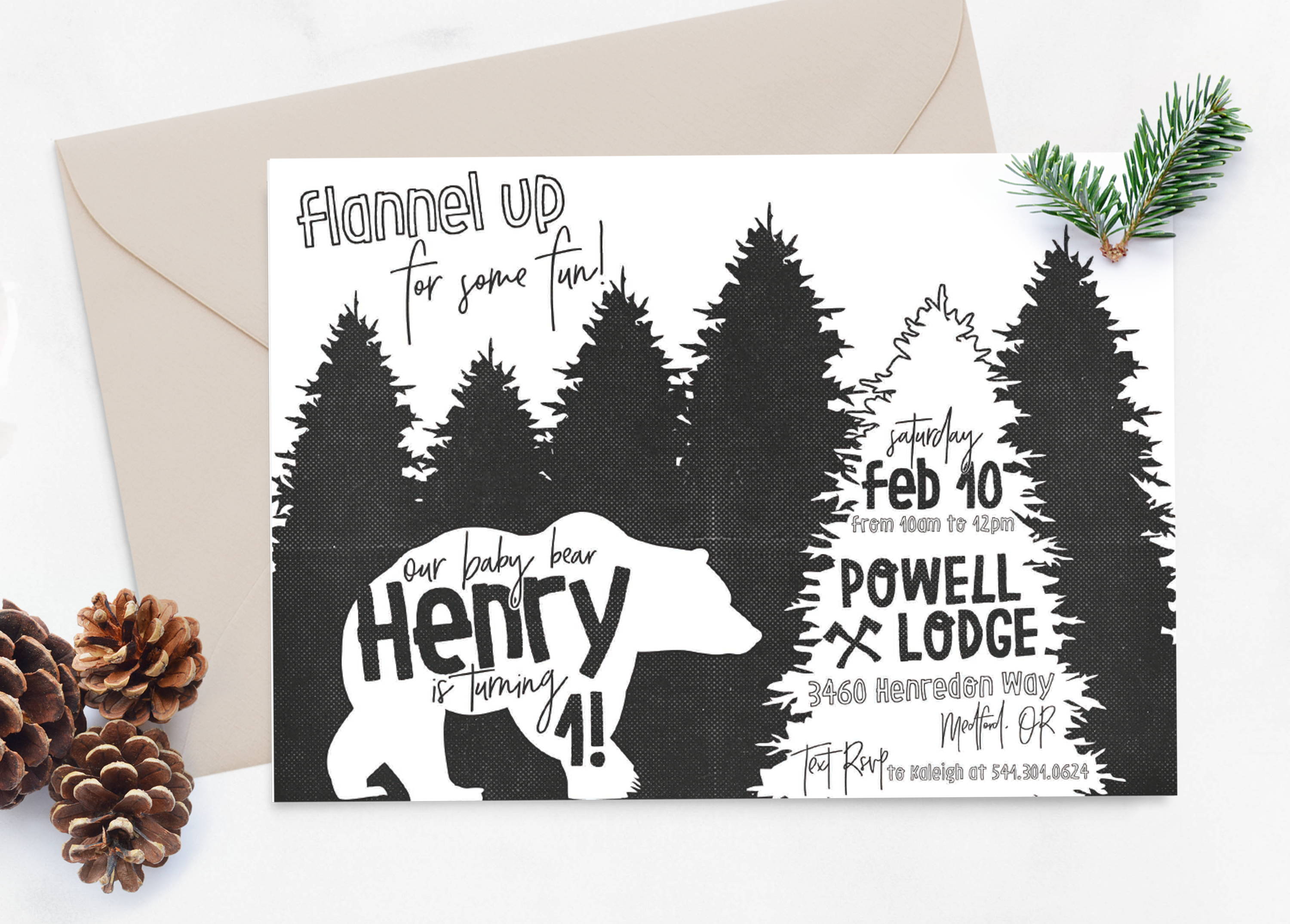 Food & Drinks
We planned to do a "brunch" theme – because mama wanted an excuse for mimosas and a donut bar, of course! Below was our menu for the day. We hosted the party at my dad's house, and a few people pitched in to bring something which was incredibly helpful.
Mimosa Bar (duh!)

Hot Chocolate Bar

Donut Bar (another duh!)

Yogurt & Berries

Gluten Free Chocolate Chip Coffee Cake

French Toast Casserole

Mini Egg Muffins (3 varieties)

Bacon
We set everything up buffet style to make it easier for us, and easier for guests. Clearly, we had a lot of sweets, but wanted to provide some savory options too and the mini egg muffins were a huge hit! More details on the drink bar set up below.
PRO TIP: Keep in mind any dietary restrictions your guests might have and provide options. I knew that several of our family members had gluten allergies, so I wanted to be sure we still had choices for them!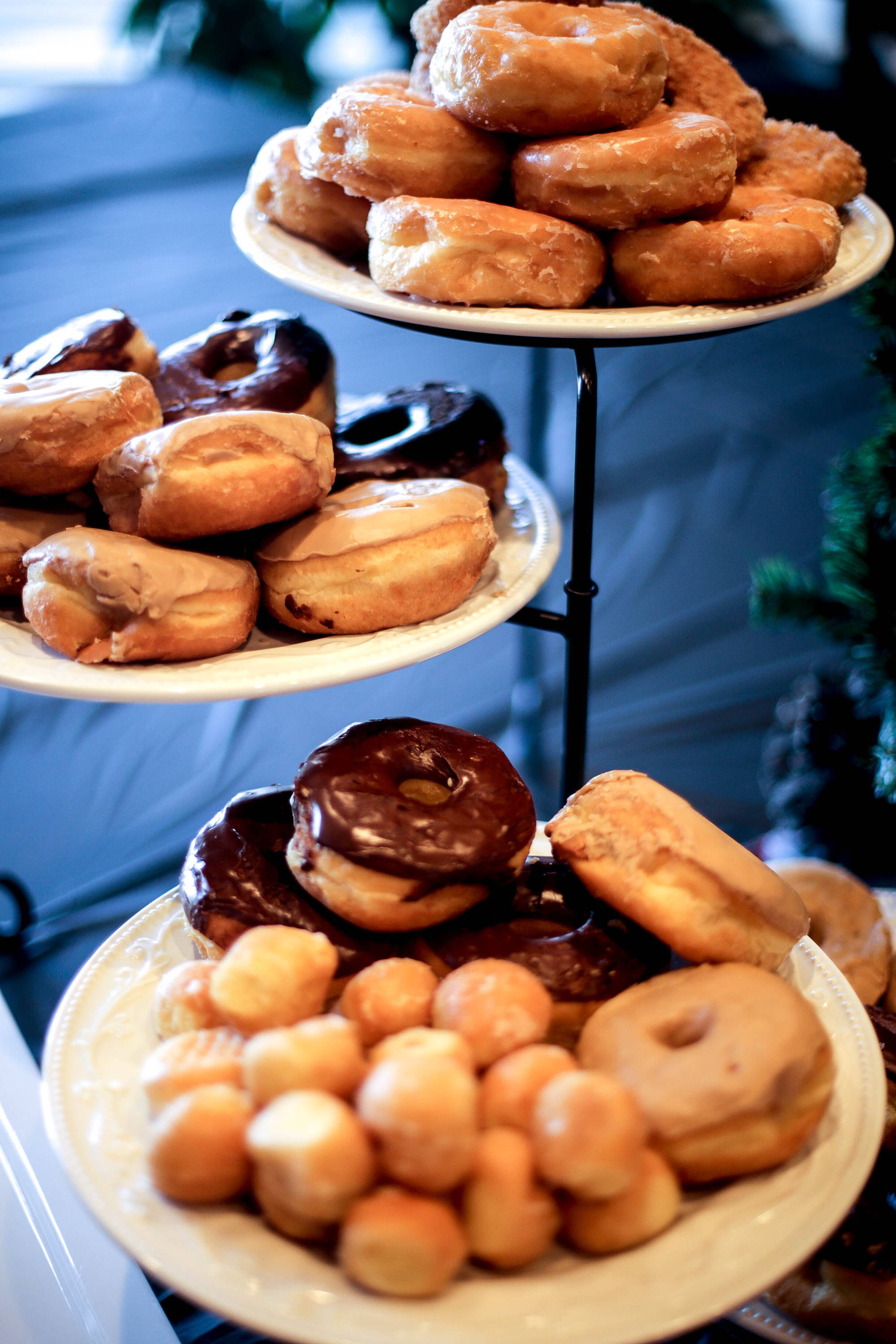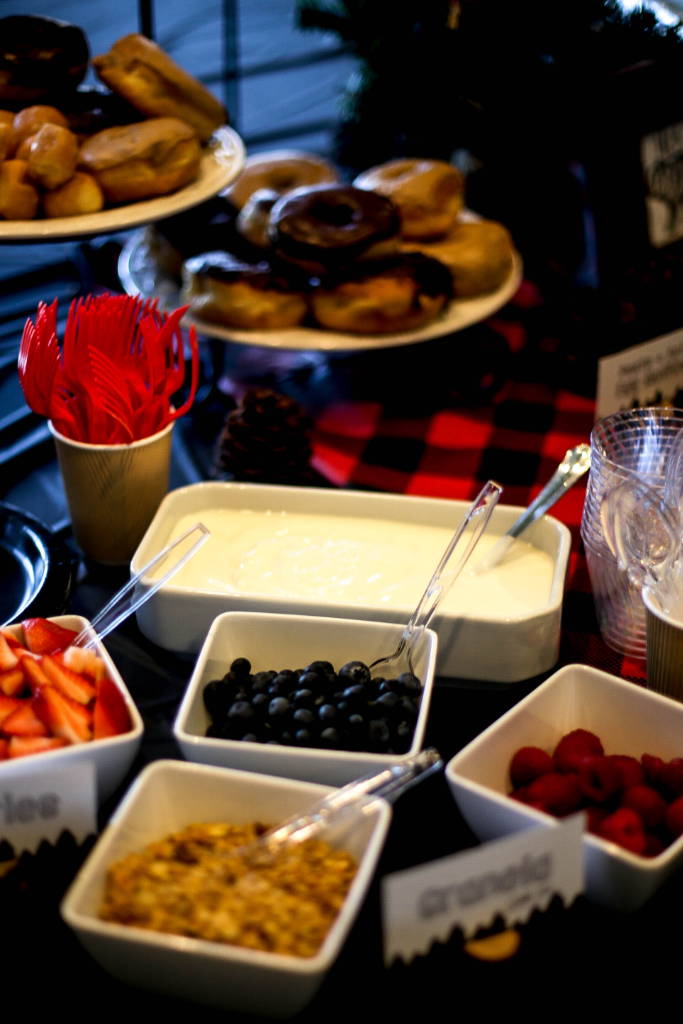 Drink Stations
We set up two main drink stations: a mimosa bar and a hot chocolate bar.
Mimosa Bar I purchased 4 glass carafes for the juices from a local store (great to have on hand for parties and get togethers!). I printed a Mimosa Bar sign and matching juice tags. We also bought stemless wine glasses and gold foil paper straws. For the wine glasses, I cut out 3 designs – bear, deer head, and axes – using my Cricut & some black adhesive vinyl. This was a simple project but really added something to the party and was a fun party favor for the adults.
Hot Chocolate Bar To make it easy, we had premade the hot chocolate in a crock pot which kept it warm the entire party! I bought these paper cups, these lids, and these spoons for the hot chocolate bar, and provided whipped cream, mini candy canes and mini marshmallows.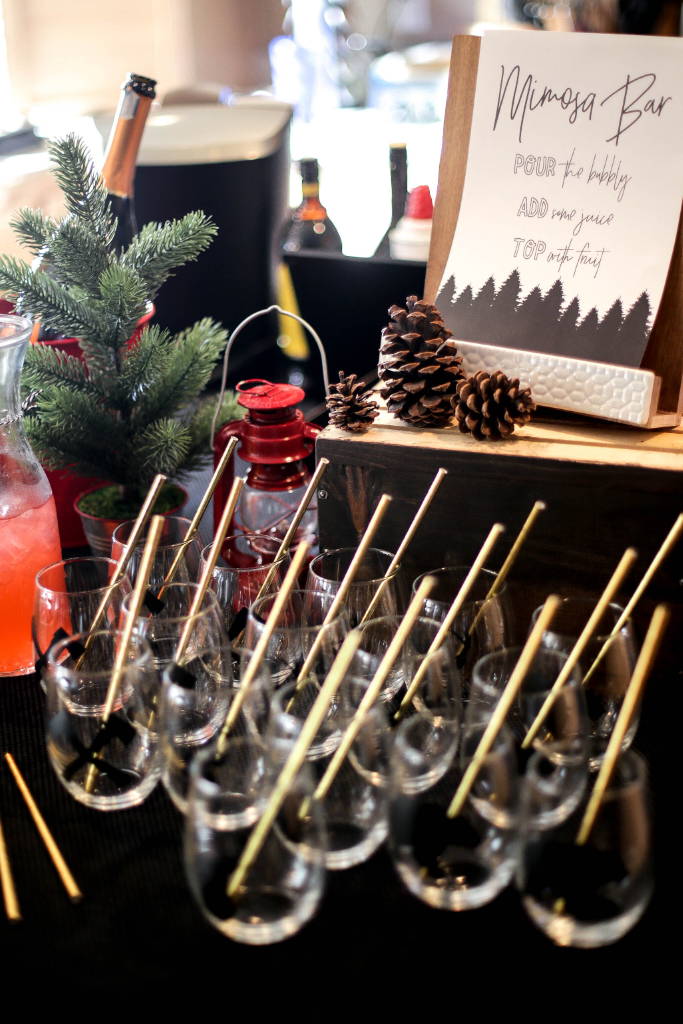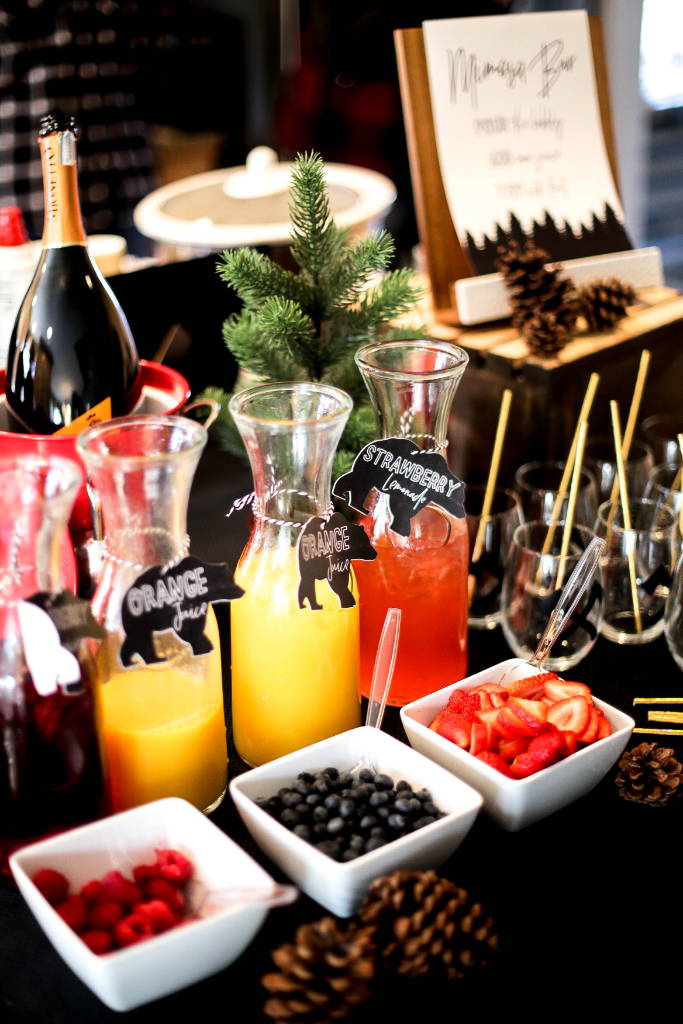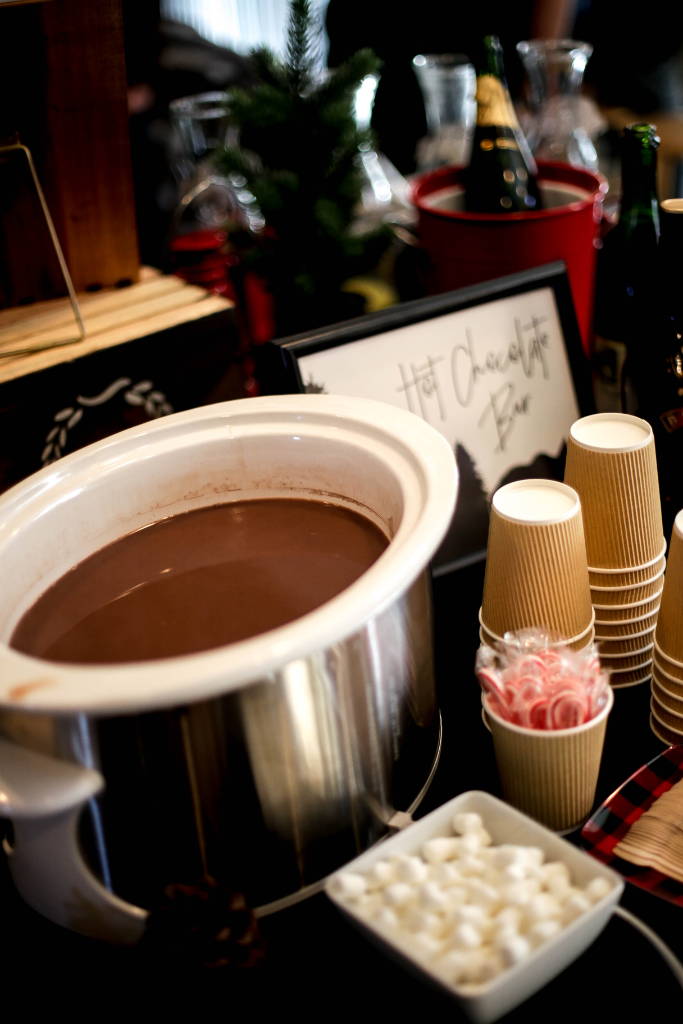 Paper Goods
I designed a few other coordinating signs & food tent cards and printed on cardstock I had at home. One of my favorite parts were the bear shaped juice labels on the mimosa bar! This is a super cost-effective way to spruce up your buffet table. Incorporating little bits of the theme throughout makes a huge impact.
Party Favors
We made s'mores trail mix bags for party favors and they were so easy to assemble! I will say, we went a little overboard on them and ended up taking a lot home. In retrospect, I would've just made these for the kids with a handful of extras. We also gave away the wine glasses from the mimosa bar to anyone who wanted theirs, which was a great reusable keepsake for them.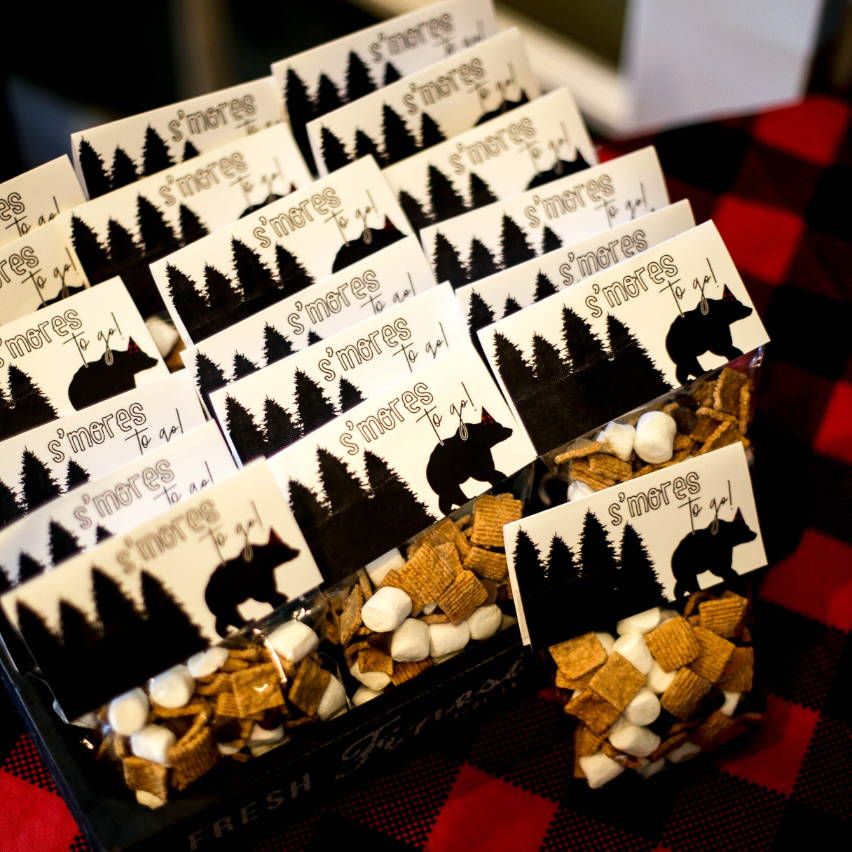 Other Decorations
I tried to keep the décor fairly minimal where I could, and essentially set up little "vignettes" throughout the space. Super helpful to not try and decorate the entire space! Here's what we bought with links to most items (not affiliate, just tryin' to help a sista out!)
One Balloon, from Amazon

High Chair banner & "one" triangle banner, made by my super crafty sister

Guest "Log": Wood round, mini chalkboard easel, chalk pen, chalkboard paint or black paint (from local craft store)

Mini Christmas trees & pine cones from our holiday decorations (from Target)

Wood log rounds (leftover from our wedding day, but you can pick some up at the craft store or online)

I also made us matching mama bear and papa bear shirts to tie in with Henry's "Baby Bear" shirt, and we all wore flannels of course!
Our NEW Mountain Mama tee from our Artists Collection would go perfect with this theme, plus you can wear it year-round!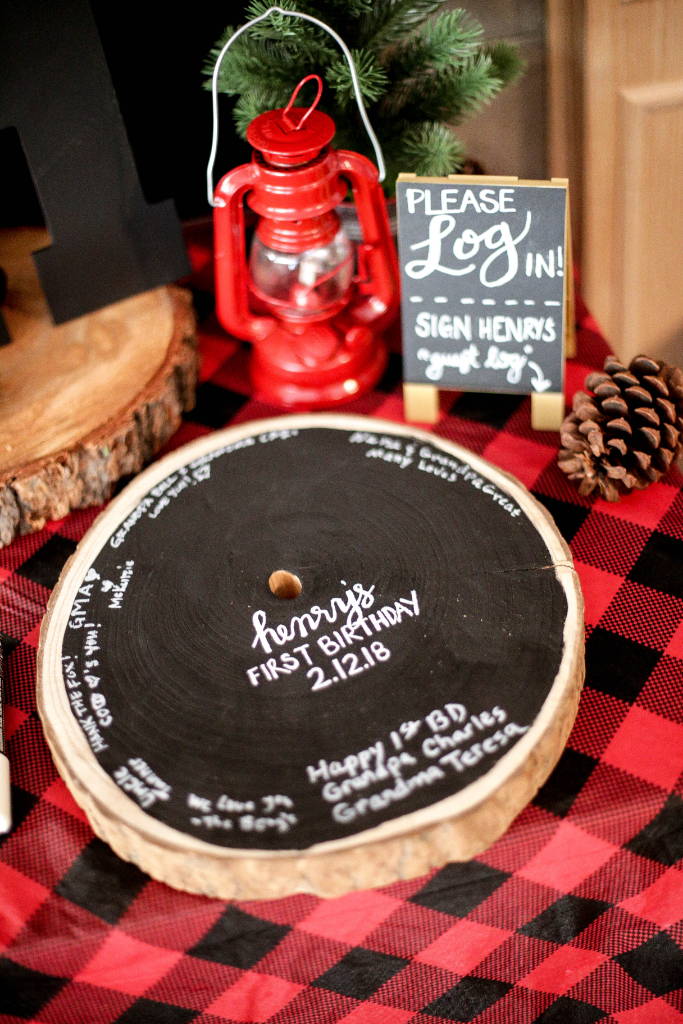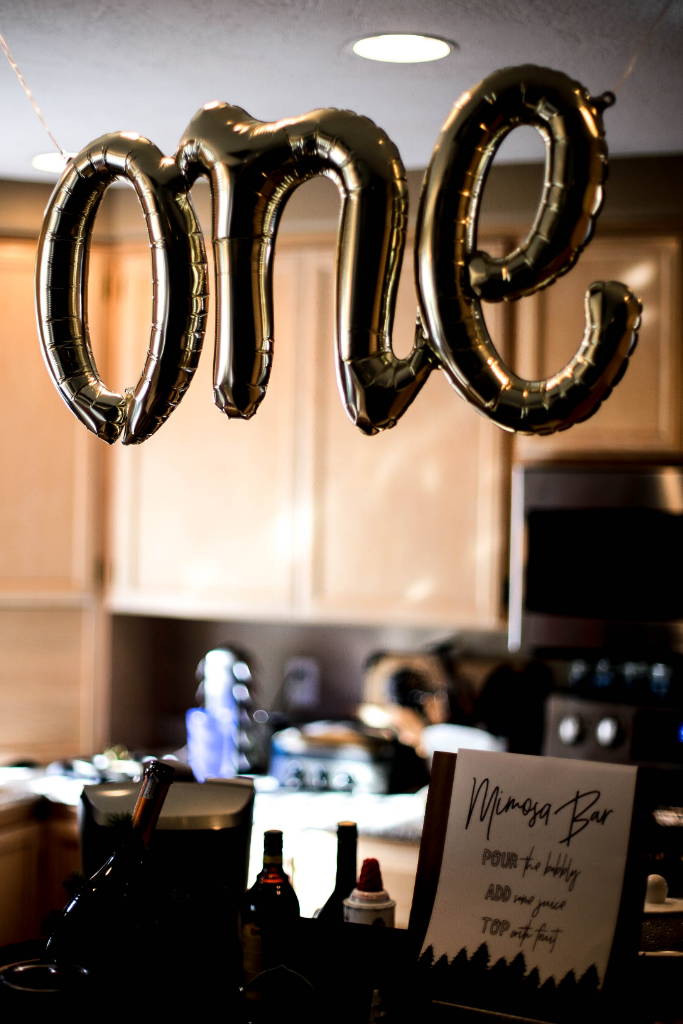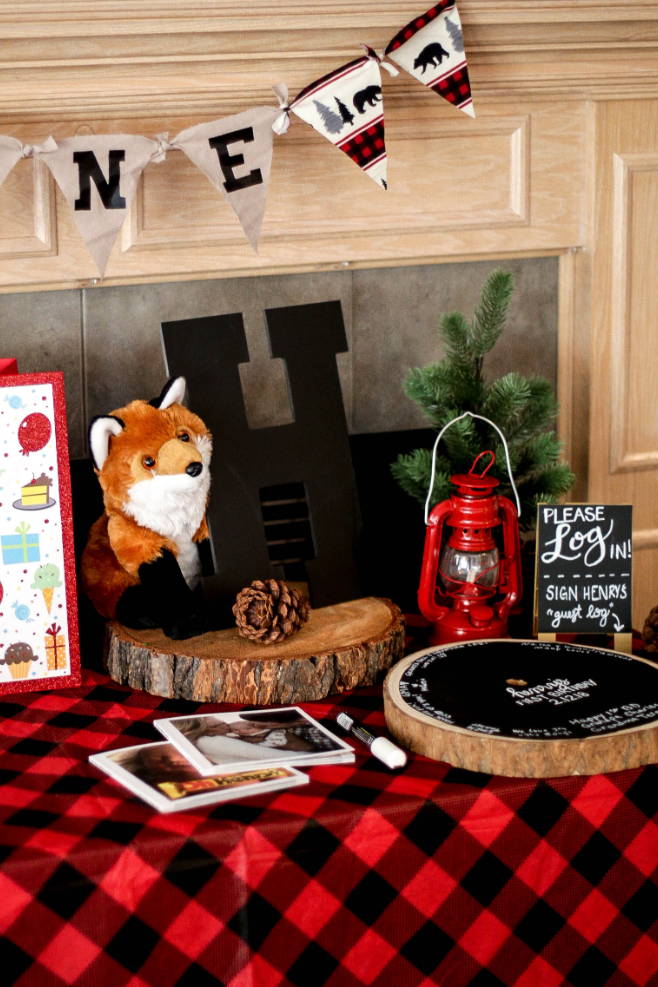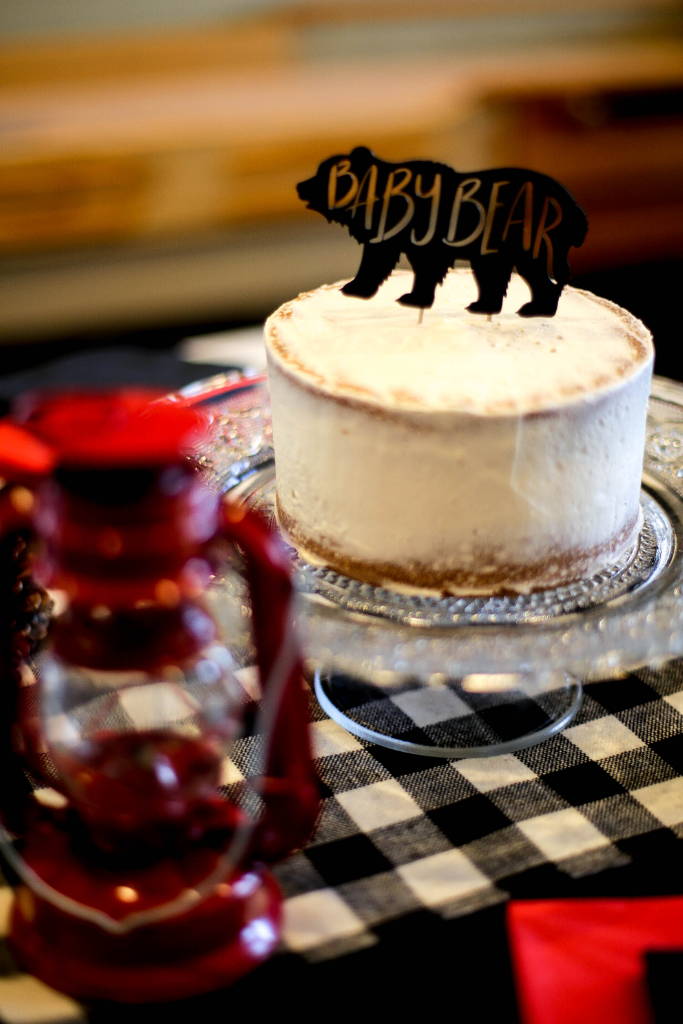 Set up the night before if possible. We set up the entire party – with the exception of the actual food & drinks – the night before, and for a morning party, that was so helpful. We even put the serving dishes in their places so we knew exactly where to put everything in the morning.
Reuse décor from past parties, or even from your home, if you can! We saved so much money by using leftover decorations from his baby shower. All I really had to buy were some paper plates, napkins & silverware, along with a few special décor pieces I wanted. Because we were playing off the rustic theme, I was even able to use some Christmas decorations like mini Christmas trees, pine cones & red lanterns.
Incorporate little bits of your theme throughout every aspect of your party. We used the bear motif in several places that helped tie everything together. The invitation was the first piece of this to set the mood, but we used bears on the mimosa bar tags, signage, and even our family shirts!
Set a budget. You don't have to spend a lot of money to throw a fantastic party! Consider your guest list, how many people you anticipate coming and go from there. Food & drinks can tend to add up, so plan your party around affordable food options if you expect a big turnout!
If I could change one thing about what we did, it would be to have spent a little extra money to have the guests addresses printed on the envelopes for me! As a new mom & small business owner, free time is a luxury, and it would've been great to skip having to address everything. It's a little more expensive, but SO worth it! (I just did it for my sister's baby shower and not only did it save me tons of time, I got TONS of compliments on how everything looked.)
Henry may not remember his first birthday party, but I know I will! It was so special watching my baby bear be surrounded by people he loved. Here's to hoping I have a couple more years of getting a say in his party theme though, because next year I think a "Taco TWOsday" will be in order!
Planning your own "modern, baby bear" or rustic themed birthday party? Feel free to reach out if you have any questions! Leave a comment with your first birthday party or party planning tips!
xo Kaleigh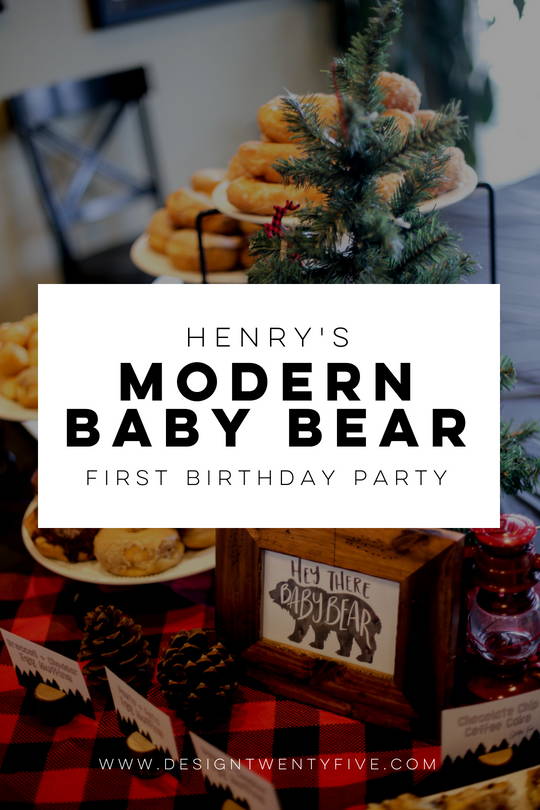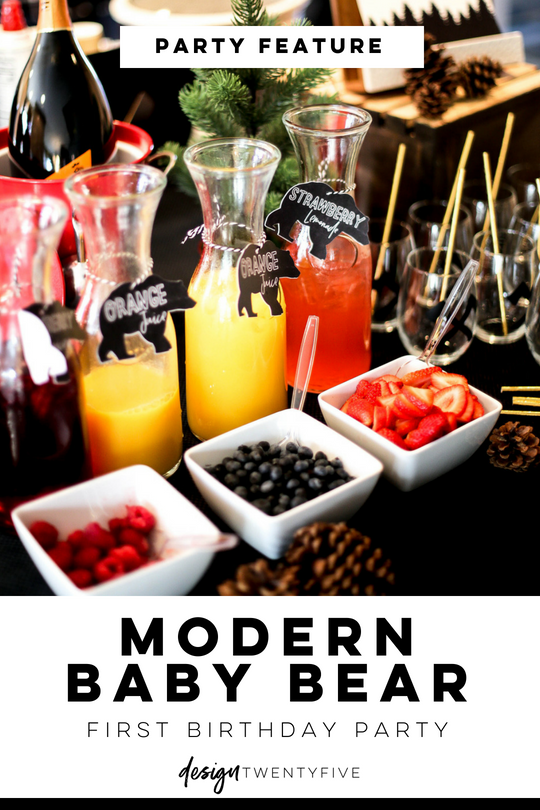 ---
3 comments
---
---